Keeping NZ businesses cyber-safe since 2002
Securecom brings a common-sense approach and practical advice to accelerate your cyber security posture.
Securecom Security Services
At Securecom, we recognise that information security cannot be addressed through a 'once and done' approach – it requires continuous investment to assess, improve and maintain the overall security posture of a business. To meet this challenge, we have developed our 'How Secure?' approach.
This approach follows a 3-stage process:
How Secure? – we assess your security maturity and technical controls against industry recognised frameworks to determine your current state and your exposure to cyber risks. Depending on your specific requirements, this may cover governance and risk management, policy and process, vulnerability assessments, technical control assessments and network/web traffic profiling.
Get Secure – we take the output and recommendations from the assessments to develop a programme of remedial work to address any issues and fix any security gaps. Again, depending on your specific situation and the level of investment available, this may be a few project initiatives or a long-term programme of work.
Stay Secure – we help you to keep abreast of the ever-changing security landscape through continuous monitoring and alerting via our Managed Detect and Response (MDR) service and ongoing advice and guidance through our virtual Chief Information Security Officer (vCISO) service.
Above all, we take a pragmatic approach to security. We recognise that not all businesses are able to implement a full security framework or achieve a recognised security accreditation, nor is it appropriate for them to do so. We focus on identifying practical and tangible actions that you can take to improve your security, working with the investment you have available, rather than over-investing to achieve a compliance tick.
Our Security Portfolio
We offer a full suite of security services to give you the assurance from the Board down that you have the right blend of security controls, cultural awareness and governance to manage your cyber risk.
Current State Security Assessment (CSSA)
Current State Security Assessment gives you an accurate baseline of your cyber posture and clear recommendations and actions to address any gaps.
Managed Detection and Response
Improved protection with better visibility across your full IT environment, security intelligence, and our Security Operations expertise to identify and respond faster to threats.
Virtual Chief Information Security Officer (VCISO)
A full time CISO is not often practical or affordable. Our vCISO gives you access to the expertise you need to embed effective governance, risk frameworks and policy to guide your cyber security programme.
Endpoint Detection and Response
With advancing threats traditional anti-virus is no longer fit for purpose. Gain advanced endpoint protection and cost-effective monitoring through our Security Operations Centre and broader IT expertise.
Vulnerability Management
By taking a risk-based approach to target higher risk vulnerabilities, we offer a managed programme that tackles the ever increasing wave of vulnerabilities to reduce your attack surface.
Phishing Simulation and Training
Phishing has become a fact of life and managing the risk it poses is a constant challenge. Keep awareness high and measure how your team react through our simulated phishing campaigns and targeted training.
Security Awareness Training
Our Security Awareness Training is tailored to your organisation and designed to educate your employees so they become an active part of your cyber protection.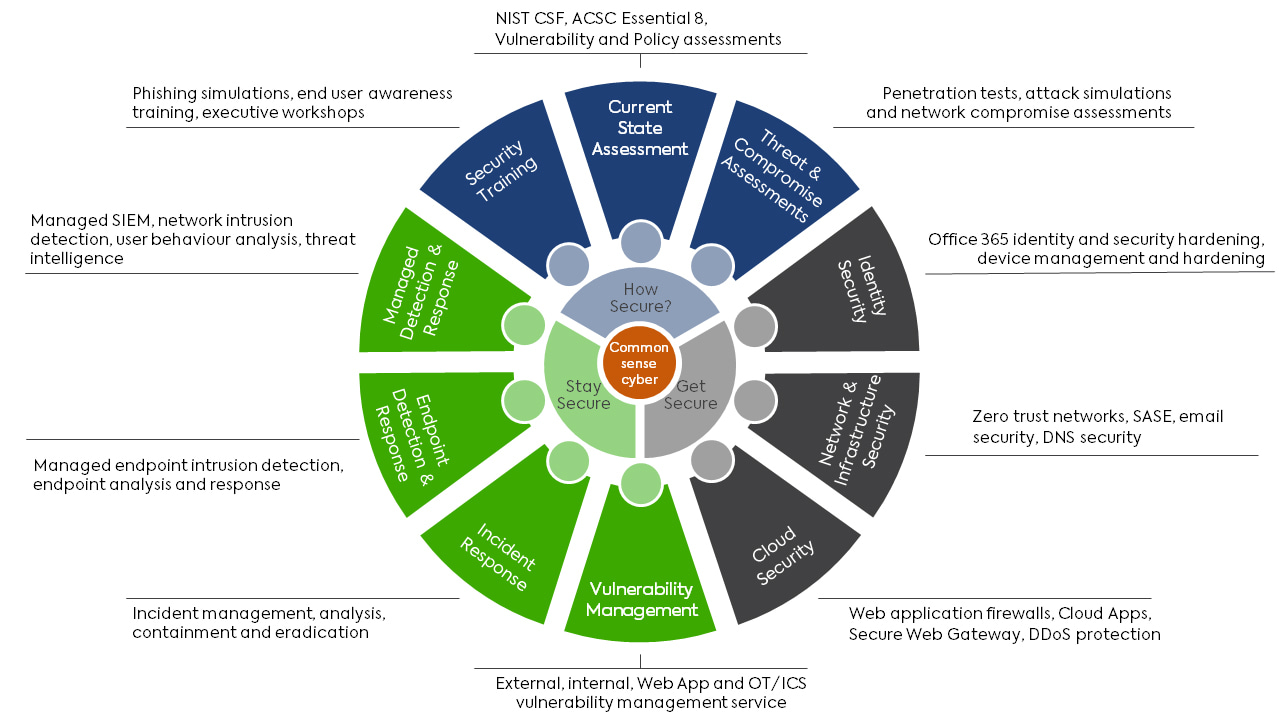 Our business is owned and managed by experienced technology executives who, among other things, have launched the country's first cloud offering and helped to grow one of the NZ's largest managed services companies.
With us, you know that IT is in reliable hands.
It's time your IT delivered results
Have an IT specialist call you to discuss your technology needs.